Parish Groups and Activities
Adult Education
Sunday Mornings 8:30-9:15am.
Adult Education explores refugees in America with Dialogues On: The Refugee Crisis
Sunday Morning Adult Education
8:30am ~ Susan Baker Room
Beginning Sunday, February 16th
Refugees in America: a tough topic, both at a local community level and from a national policy perspective. Dialogues On: The Refugees Crisis offers eight unique perspectives from experienced authors from renowned organizations such as World Relief and Church World Service that provide insight into refugee stories and experiences.
Chapters in The Dialogues On: The Refugee Crisis include:
The story we live in by Brianne Casey
A people without a place by Dr. Beth Oppenheim-Chan
A global perspective by Jenny Yang
A network of care by Sarah Krause, MS
Facing our history by Halima Z. Adams
Looking for home by Aubrey Leigh Grant
Where do we go from here? by Matthew Soerens
Everyone is welcome - we meet in the Susan Baker Room (first room on your left as you come in the front doors). There's plenty of room and the chairs are comfy!
Prayers and Squares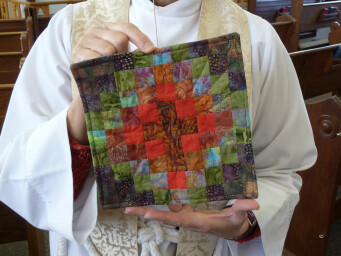 What is Prayers & Squares?
Prayers & Squares is an interfaith outreach ministry that combines the gift of a hand-tied quilt with the gift of prayer for someone in need. The essence of this ministry is in the prayers offered for the recipient; it is not about the quilts.
What is a Prayer Quilt?
Very simply, a prayer quilt is a quilt that is made with love and tied with prayers. Each knot tied into the quilt represents a prayer that is offered specifically for someone in need of those prayers. As our congregation gathers for Sunday worship, the quilt is blessed and all present are invited to tie knots into the quilt representing prayers, love and concern for the recipient. It is also our custom to sign a card for the recipient with brief notes of encouragement and love.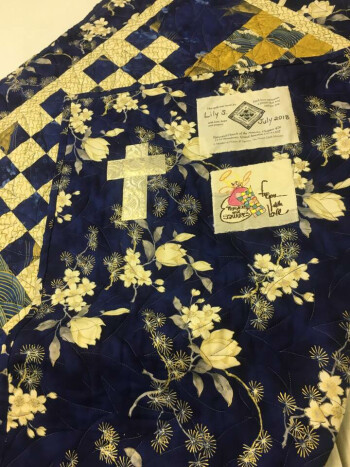 Click here to download a quilt request form.