Programs and Ministries
Ministries
SERVICE IN CHRIST
MINISTRIES OF WORSHIP
MIND & HEART
WEL (Wednesday Evenings in Lent)
Friends Cooking for Friends Ministry: Friends Cooking for Friends is a ministry dedicated solely to the selfless, kind acts of a group that comes together to cook, package, store, and deliver ready-to-eat meals for people who are suffering a hardship and could use a warm meal. Anyone can join in at anytime to help make a loving difference in someone's life.
Greeters Ministry: Greeters are in charge of making all who enter our church feel welcome and comfortable! Being a greeter is a wonderful way to connect with others and get to know one another! We're currently searching for someone to handle greeter scheduling, - contact the church office if you can help!
Hospitality Ministry: The Hospitality Ministry is largely responsible for organizing the coffee hour each week, as well as recruiting volunteers to host coffee hours, and planning/organizing receptions for special events such as: Lessons & Carols, weddings, funerals. They also help put on special dinners, like the Newcomers' Dinner, stewardship dinners, and parish potlucks. Volunteers are warmly welcomed!
Outreach Committee Ministry: The Outreach Ministry is responsible for reaching out and addressing needs outside of the parish. The outreach committee organizes financial gifts to food banks, children's organizations, a children's hospital in Nepal, and much more.
In 2017, the Church of the Nativity, through its Outreach Ministry, 'adopted' Bonnie's House. This is the latest in transitional housing for previously homeless teens in the Grand Valley, run by Karis, Inc. , website http://thehousegj.org/ or http://thehousegj.org/index.php/2018/01/16/bonnies-house/ . We started with completely remodeling and furnishing the house and now we are on to supporting the 7 young adults who live there with food, fellowship, and things like gardening ideas. Come join us! Photos below of church members happily engaged in the remodeling process!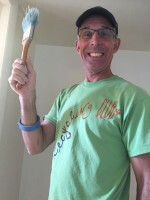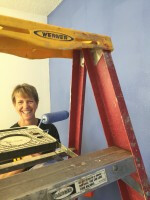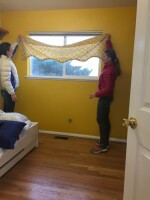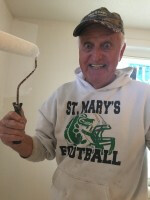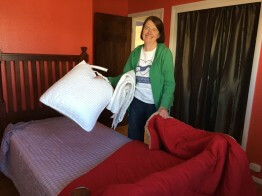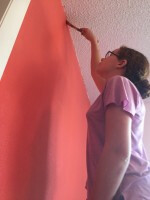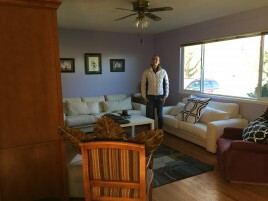 In 2016 this ministry initiated a Reverse Collection Plate campaign where participants found unique ways to conduct their own small, private mission with $25. Listen to stories below shared at Sunday Services.
Click Here: A Nativity Cares 2016 Campaign Audio Story
Click here: A second audio story from Nativity Cares 2016 Campaign
Ministry of Prayer: This ministry works to provide prayer support for parishioners and community members alike, through the prayer commitments of a team of dedicated individuals. Volunteers need only commit to confidentiality and a consistent prayer practice on behalf of the people who request prayers. Anyone, whether a member or not, can make a prayer intention known by emailing .
Prayers & Squares Ministry: Prayers & Squares is an interfaith outreach ministry that combines the gift of a custom-made, hand-tied quilt with the gift of prayer for someone in need. The essence of this ministry is in the prayers offered for the recipient; it is not about the quilts.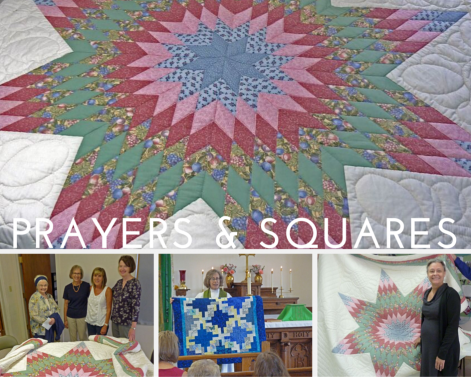 The Altar Guild Ministry: The Altar Guild is responsible for the care of the altar, vestments, vessels, and altar linens of the parish. Altar Guild members prepare the sanctuary for services. Altar Guild members frequently supervise the decoration of the sanctuary of the parish with flowers.
Liturgical Ministers: Our Liturgical Ministers consist of Acolytes, Lectors, Chalice Bearers, and Eucharistic Visitors. Acolytes serve at the altar and assist throughout the service. Lectors read scripture passages aloud to the congregation as part of our worship. Chalice Bearers serve the consecrated wine at Communion.
Music Ministry: The Music Ministry is composed of a group of volunteers who collaborate to choose hymns and special music to complement each Sunday's Bible lessons, help lead the singing during worship services, and create special concerts/events for the community and our parish. We encourage anyone who wants to sing, play an instrument, or otherwise help with the musical side of worship to join in on the fun!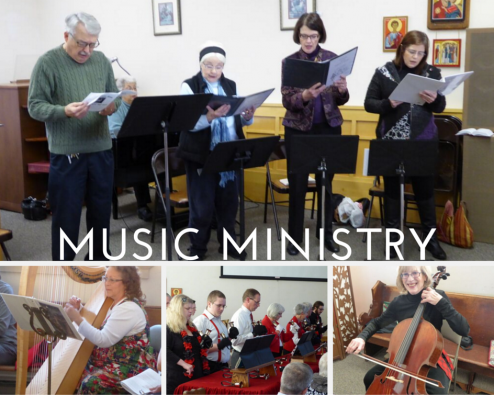 Adult Education Ministry: Adult Education is held on Sunday Mornings 8:30-9:15 am. focusing on a new study series every 6 to 12 weeks. Everyone is welcome to join in!
Paws for a Blessing Ministry: PAWS for a Blessing offers a range of programs, honoring our commitment of Caring for All Creation. Programs are open to the public.
MONTHLY BLESSING

:

Please join us the first Sunday of every month from 5-6 pm for an all-faith ceremony that includes hands-on blessings for your furry, feathered and scaled children.

Well-behaved, leashed dogs, crated cats, caged birds, and all manner of safely secured pets are welcomed and blessed during this service.

If your pet is too big to accompany you, bring a photo!
LECTURE SERIES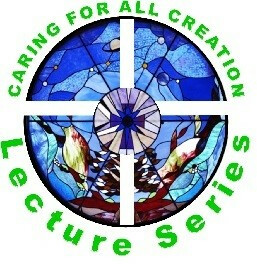 Nativity sponsors a Caring for All Creation Lecture Series, held approximately every other month.
The Lectures, on a variety of subjects, are presented by experts in their field, and are free and open to all.
The next lecture, BACKYARD COMPOSTING, is scheduled for Tuesday October 30th @ 6:30 pm.
Coffee and appetizers will be available at 6:00 pm.
ANIMAL MEMORIAL SERVICES
Animal Memorial Services are conducted twice a year on the first Sunday in May and December, beginning at 5:00 pm.
Weather permitting, we gather outdoors near a fire to grieve and share stories about our cherished, departed pets.
Owners of departed pets are welcomed to remain after the brief blessing service for a special parting service centered around the internment of your pet's cremains (ashes only) in a designated memorial garden.
The $45.00 burial fee includes an engraved marker stone with a photo of your pet and any epitaph you may wish to include.
Contact our staff for more information.
Spiritual University Ministry: This ministry offers study and discussion of a wide variety of spiritual concepts and topics, usually including a specially-chosen DVD series to focus the discussion. Church of the Nativity offers a variety of study leaders and session times, so keep an eye on the website for the latest offerings or call the church office. To see our current offering, click here.
Take a look at this history of Spiritual University if you wonder what our past offerings were: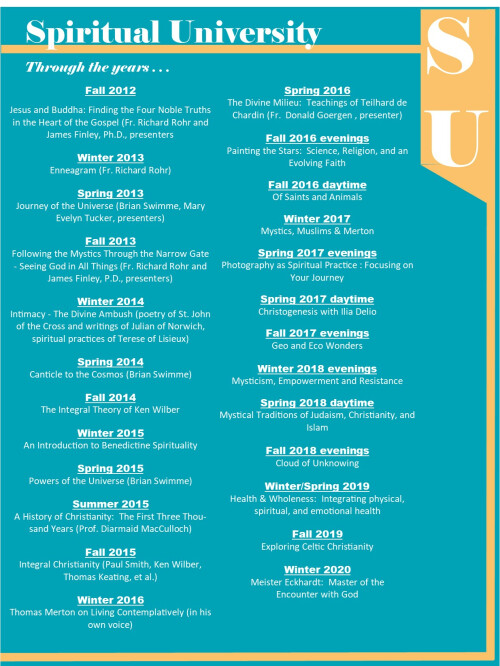 Sunday School Ministry: Sunday School is for children from toddlers up to 12th grade, and begins at 9:30 each Sunday morning. Sunday School offers an Episcopal approved lesson plan. When it's time for the Eucharist, the children rejoin their families to share in communion.
WEL (Wednesday Evenings in Lent) Ministry: WEL is part of the Adult Spiritual Formation, which consists of five components: WEL, Spiritual University, Adult Education (Adult Sunday School), the Book Group, and Centering Prayer. WEL only meets during Lent and lasts for five weeks. During Lent, those interested enjoy a simple meal of soup and bread and then break into an hour of study. During WEL, there will be no other evening studies in progress.