Spiritual University

Spiritual University is beginning its ninth year as an ecumenical, interfaith project of progressive thought and learning sponsored by Episcopal Church of the Nativity. People of all faith traditions or none at all are welcome. Courses are offered three times yearly - Fall, Winter, and Spring. A nominal tuition fee is charged for each course but scholarships are available if payment is a hardship!
---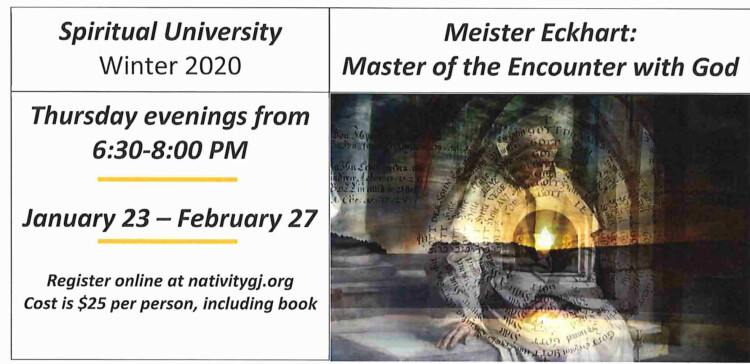 Church of the Nativity is pleased to announce the Winter 2020 term of Spiritual University. Rev. Emil Belsky will be leading this six-week exploration of the teachings of Meister Eckhart.
Today Meister Eckhart (c.1260-1328) is recognized as one of Christianity's most significant mystics. Yet his spiritual teaching is not always easy to understand. Its implications, bridging the gap between Christianity and other world religions, has at times been misunderstood and has resulted in his condemnation by some. You are invited to delve deeply into Eckhart's spiritual wisdom—a wisdom that influenced people as diverse as Martin Luther, Dag Hammarskjold, Erich Fromm, D.T. Suzuki, Thomas Merton, and Matthew Fox. Those practicing contemplative or centering prayer will find this offering to be of special interest. Topics covered will include:
Who is Meister Eckhart, Preacher and Teacher
Eckhart's "Metaphysics of Flow"
Saying and Unsaying: The Impoverishment of God Language
Detachment: Eckhart's Abgeschiedenheit & Gelassenheit
Living Without a Why
The Birth of the Word in the Soul
Theosis, or Union with God
Beyond Condemnation: Eckhart's Lasting Legacy
Please pre-register online here and pay your $25 fee at the door on the first night of Spiritual University. Your fee will cover the cost of your book and study materials.